I'm Back



I had to do some "internal construction."

I realize I have some history with some of you. I deleted the other blog. I want to stick with one blog now. Sometimes I'll post d/Deaf or Usher related stuff, and sometimes I'll post updates about life in general.

For some updates (note Family Cast in sidebar-screen names):

Flare took communion with me for the first time last Sunday. It was a bit weird (another "growing up" milestone for me), but I was glad, too. I didn't have to go up there alone anymore.

I didn't have to worry about bumping into the person in front of me while waiting in line or as we lined up to take communion. (If I bumped into her, she'd understand.)

I let my guard down a little. I relaxed. I didn't watch for cues the way I always did when I went up there alone. I didn't watch the pastor too much. BIG MISTAKE.

All of a sudden, I realized Flare was gone. She turned around and walked back to the pews and the others up there with me were staring at me. I hadn't moved. What an embarrassing moment. I knew that the pastor would understand, but not everyone in the congregation knew I had a hearing problem or even if they did, they didn't know I had visual problems, too. (Our congregation is large and I honestly don't know everyone, but the parents of my kids' classmates and a few of the others that knew my parents.) I kind of moved hastily, trying my best to see where I was going. I must have looked "drunk."

I later told Flare to please nudge me or something the next time we took communion. I also realized that maybe I shouldn't have "relaxed" and expected Flare to do anything like that anyway. I just feel uncomfortable about "staring" at people for any reason, like their lips or their movements for comprehension or cues. Never "assume."

We went to a recent graduation ceremony. Hubby's niece was graduating.

We sat in the bleachers of the gymnasium and it was a bit crowded for me. Both Flare and I had to "angle park." That is, we have long legs and if we sat the "normal" way, our knees would be poking the person sitting in front of us, so we moved our legs sideways.

I knew I would not like the bleachers anymore. No railings. Steps are different sizes. I have no depth perception. I can't tell where one step ends the next one begins. If there was something...anything, whether it's a strip of metal at the edge of each step or some kind of contrast in color, it'd be easier. Oh, well.

The kids at the top of the class went up to the podium to do their speeches. People in the audience were supposed to clap once or twice for some reason. (Don't ask me what they were.) I couldn't understand a thing. I mean, I hear the voices, but it's just "noise." When people laughed or clapped, it was like, oh, it's my cue to laugh or clap so I'll smile or clap a second or two behind the rest.

(Is it me or do high school graduates look like, well, kids? The older I get, the younger they look?)

They also had some sort of a movie showing each student's baby picture and senior picture with some odd candid shots of some of the kids during the school years or photos of teams in uniform. Flare had a similar movie made for her class, too. I made me wonder how long that was being done. The Information Age really have changed a lot of things.

Smiley moments over the past week:

Angel started her summer vacation wanting to play, play, play. Unfortunately for her (and good for me, wink) most of her playmates are still in school.

Flare attended communion for the first time with me.

Flare went to a classmate's bonfire on the last day of school. Hubby took her there and picked her up afterwards. Thanks, Hubby, for being the "taxi driver."

Odd weather: We have been getting a really warm day followed by a steep drop in temperatures the next day. Now it's supposed to be in the 70s to 80s all week with lots of thunderstorms. Onyx really "digs" the storms. She freezes up, shakes, and "digs" in where ever she is.

Angel got to meet next year's teacher. The school just hired a new teacher. It was nice that she was able to visit the class before school ended. Angel was pretty pumped.

Angel's usually hyperactive. Always buzzing. Always on the go. She and a neighborhood kid are friends again. I forgot how fast kids get into fights and "ban" the other from going over to the other's house, then "forgive and forget." Flare was more of a homebody and stayed close to home. She got tired of the backstabbing race quickly. She has the attitude that if they don't want to talk to her, then she doesn't want to bother wasting her time on them. (Deep down, I know it's just tough talk or is it? Maybe it's wisdom?)

Flare quickly tells me that she no longer "plays" with kids; she "hangs out" with them. Hangs what? Hee. I get a mental picture of kids hanging in the closet, like clothes. They have their favorites-the often and well-worn, and some they will "wear" every so often. A good analogy, I think.

I went to the gas station and noted that gas is very close to $4 a gallon. I don't have gas pains; I don't drive anymore. I may have mobility issues, but not having to fill up my gas tank using money that literally "go up in smoke" makes me feel better.

On the same topic, GM is closing a plant that makes pick up trucks. Hmm, no "economy" trucks?

Onyx is really living the life of a pampered pet. She has her own doggie pillow; she has a lot of use for it. When Hubby first got it a couple of weeks ago, I wasn't sure how she'd like it. But she's really "into" it. She's in it more than any of her other favorite "hot and cold spots" (under the table and where ever the sun shines on the floor).

Congrats to Flare and Niece for graduating. One moving on to the world and one to secondary education.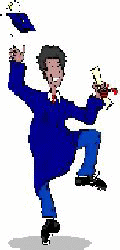 glitter graphics

That's it for now.

Later.

OXOX