Do You See What I See...


....do you hear what I hear?....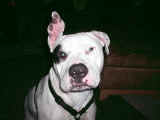 glitter-graphics.com


We all have a different story to tell because the varying degrees of deafness and vision loss among those of us with Usher Syndrome. It isn't the same-even with all the different Usher types (Type 1, 2, and 3-and probably even a Type 4). It is not the same within family members, either.

My brother and sister have different levels of hearing and vision loss. Our progression of vision loss isn't the same. My hearing loss is much worse than theirs are.

I have had online contact with many others with Usher Syndrome. It makes us one big "family". I learn from them and don't feel as alone in my thoughts and frustrations. It's so easy to share our feelings because we are/have been going through the same things. Some of them both amaze and inspire me.

Many went to college, got a degree, and raised a family. Many found out about the vision loss as a child, a teenager, or an adult. No matter what age you find out that you have an incurable degenerative eye disease, you are devastated. Then you just go day to day. That's all there is to it. You just "do". This is the same with any condition. You just "do".

There's a documentary called Silence with a Touch that gives you some insight to what it is like living with Usher Syndrome. If you are interested, maybe there is one at a library near you.
Labels: RP/Usher Syndrome