Rather Annoying Noises...Surprising CI Moments

There are some sounds I knew were there. I've heard them before, but I had no IDEA that they were as annoying or as loud as they were.
The other night, Angel wanted me to blowdry her hair. I complied. I didn't want to have her go to bed with wet hair and wake up with "bed head" or worse.
Who knows what it might look like in the morning?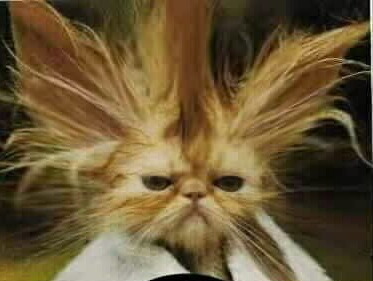 The moment I turned on the hairdryer, I was surprised that it was LOUD. And. So. Annoying.

Granted, I don't wear my CI or HA when my hair is wet, especially not when blowdrying my hair.

Wow. Is that thing LOUD!!

I knew it made noise. I still had some residual hearing in my left ear which has always been my better ear. It was just a motorized hum, a kind of a white noise. Just a bunch of hot air blowing around.

Well, the blowdryer doesn't just have a hum, it has a LOUD, annoying hum. Talk about VOLUMIZERS on hairdryers!!)

How can hearing people stand it? Whoa. I think I could never think of it as "white noise" because I rarely blowdry Angel's hair anymore. Sure, I use it a lot, but, again, I don't wear the HA or CI when I use it.

``````````````````````````


Now the next surprising "noise" I am going to share with you isn't new. I knew it was there, but really had no idea it was THAT loud.

Hubby fell asleep on the couch watching TV. He started snoring. LOUDLY.

I look at Angel and say, "Does Daddy always snore that LOUD?"

Angel: Mommy, I can hear him from my room!!"

Me: Really?

Flare: Mom, I can hear him snoring downstairs while I'm in my room.

Me: Really?

What bliss!! I can sleep through his snoring. I don't sleep with my HA or CI.

(Sorry Hubs….yes, I know...I snore, too….I bet you snore louder…winks)

Even Topaz snores. LOUDLY. (Whoa.) Even though Onyx snores sometimes, but not that LOUD and not always. She more or less just barks what I call "bubble barks". She just gets air out of her closed mouth and then she just has this "puff of air" bark. (Sweet dreams...chasing that obnoxious squirrel, are you?)
```````````````` ```````````


The benefits far ouweigh the negatives about getting the CI, even annoying noises. At least I'm not exposed to them ALL day. :)

Music: I still use the TV/HIFI cable to listen to music on the computer. It works just fine. I need the volume switch on 3 in order to pick up sound. (It has a volume switch numbered from 1-5.)

I've tried the personal audio cable on Hubby's MP3 player. Nothing. I don't hear anything. I put the music program on my CI on full blast. Nothing. I tried it on Flare's iPod. Still nothing.

I emailed the audi. I told her I didn't know if the cable was a dud. This cable didn't come with a volume switch.

She ordered me a new one. I would have to exchange it with the one I have and return it.

I tried it again. Nothing.

The audi thinks that I just need the map on my music program to be set at a louder volume. I'll wait till the six month visit to get it looked at.

It still works with the TV/HIFI cable, so I'm happy with that…for now.

I still surprise myself, though. I can hear sounds through closed doors. It's not clear, but it's there.
That's it for now. :)
HUGS.
Labels: CIs, hearing loss.