Back In Jail
Er…the sound booth. Actually, the sound booth at this center isn't as small as others are so it didn't feel like "jail".

Went to get a second evaluation for the other ear to see if it was a candidate for the cochlear implant (CI).

Tests galore (single word, sentences, sentences with noise in the background, sentences with a million conversations going on in the background, and on top of that, a whopper of a challenge-different voices (male and female-deep, high, "normal", etc.). That was hard, but more realistic, too. It's like being in a group and listening to them all speak you know?

I was given an audiogram again (beeps and tweets) and had to raise my hand every time I heard something.

It took two hours. Hubs expected this so he brought along newspapers to catch up on his reading and opted to sit out in the waiting room rather than the audie's office because the chairs were more comfortable. He did finish all his reading, btw. LOL.

They tested my unimplanted ear unaided with the audiogram and aided with the tests.

The end result was that ol' Petey (my first implant) is going to have a new baby brother, "Repeat" after all. .

Paperwork on the candidacy will be submitted to the insurance company for approval for the cochlear implant.



Nucleus 5 from Cochlear
While I wait for the insurance approval (again), I'll look at the packet Cochlear sent me regarding the new Nucleus 5 processor. I am not sure about the remote, but I guess I'll mange. The processor colors are mostly hair color color themed (black, white, sand, brown, and charcoal), but look at the processors covers that can be put on to express oneself. Cool.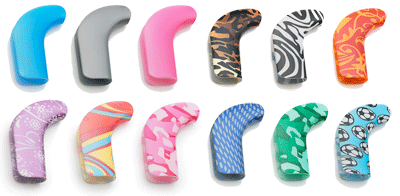 For some or most, the "better ear" (which for me is the unimplanted ear because it's the one I was hearing with before the worse ear was implanted) does even better with an implant. If that's the case, the hearing level with the second implant could be even higher than the 20-25 decibel average I have now. Of course, first things first: one step at a time…insurance approval, then surgery, then "keeping expectations low".
On the home front: Kids are out of school now. Hoping to keep the kids busy and keep them out of trouble. Angel's got Volleyball Day Camp, Jump Rope Day Camp (cool, eh?), library summer reading and activities program, and swimming. Flare's a color guard in Vanguard for the marching band and will be busy half this summer rehearsing and participating in parades and working on getting her driver's license by the end of the summer. Go, kids!!!